General Information
Hours of Operation
6.30am to 6.00pm Monday to Friday, all year round – closed only on weekends and public holidays.
Age Groups
We cater for children from 12 months to 12 years. Lead Educators in the groups hold an approved Diploma of Children's Services qualification and where required are assisted by Educators who hold an approved Certificate III in Children's Services qualification.  The Centre is registered by the Queensland Government for an Approved Kindergarten Program undertaken by a Kindergarten Teacher who holds an approved Degree in Early Childhood qualification.
Booking Fee
Once you are offered a place, we ask for a bond to secure your booking. The bond is refunded on leaving the Centre if all fees are up to date.
Daily Fees
The Centre will provide the Federal Government's "Childcare Benefit" subsidy for which many parents will be eligible. Parents eligible for a further subsidy, the Child Care Rebate, can also have this paid to the Centre which will further reduce their weekly fees.
The fees payable will then depend on the Childcare Benefit subsidy, Child Care Rebate, the number of days booked and the group in which a child is enrolled.
Applications for Childcare Benefit and Child Care Rebate should be made with Centrelink on 136 150. If you have not already been assessed, we would strongly recommend that you contact Centrelink as soon as possible if you are likely to require childcare in the near future.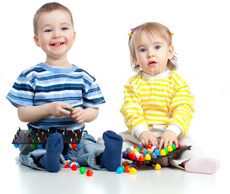 What to Bring
Children will require a change of clothes, a set of sheets (cot size), a hat, and under 2½ years, disposable nappies, trainer pants etc as required. Our nutritious meals service provides for all your child's needs as part of your daily fees.
Full details about our Centre are contained in the Centre Handbook provided upon enrolment.