Welcome to St Brendan's Childcare Centre!



Our fully air-conditioned Centre is a unique and special place where children and their families play and learn in safe and friendly surroundings. Enrol your child at our Centre, and gain all the positive benefits that flow from having your child in high quality early childhood care.
Our child care centre provides a focus on early learning and preparation for school, including the Government approved Kindergarten program, as well as the care and nurture so important for very young children. We consider all attributes of the child: physical, intellectual, social and emotional.
We also help to make life easier for you by providing a nutritious meals service and touch screen sign-in and sign-out so that dropping off and picking up your child is as smooth as possible.
We have carefully designed and planned our Centre to thoroughly cater for all the needs of young children and to fully comply with the latest National Quality Standards and Regulations. The Centre is fully approved by State and Federal authorities, providing security and peace of mind for families whose children are in our care.
Fully supervised developmental programs are provided for each age group in accordance with the Early Years Learning Framework. Qualified and experienced staff are carefully selected and trained for each position at our Centre.
The Centre is also part of a family owned group of child care centres in southeast Queensland known as Childcare Solutions. As well as servicing the surrounding communities of Moorooka, Annerley, Acacia Ridge, Archerfield, Coopers Plains, Rocklea, Salisbury, Tarragindi, and Yeronga, we also cater for families in Alexandra Hills, Beenleigh, Birkdale, Capalaba, Cleveland, Logan, Ormiston, Thorneside, Redland Bay, Victoria Point and Wellington Point. By enrolling at our Centre, you gain all the advantages of being part of one of Australia's leading child care service providers.
But we pride ourselves on maintaining a homely, personalized service at all of our Centres to ensure we meet all the individual needs of each family.
Parents are welcome at any time to visit the Centre or spend time with their children and have the opportunity to participate in extra curricular activities should they wish to do so.
We would be delighted to answer any queries or provide further information should you wish to contact us. We look forward to being of service to you.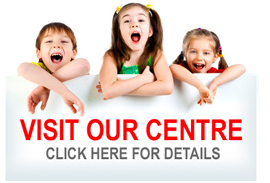 Testimonials
St Brendans Childcare Centre
Helen A (Moorooka)
My daughter has attended St Brendan's Childcare for over 3 years and has had consistent warm and responsive care over this time.  Leaving my daughter as a young toddler was made easy by the caring and loving interactions from staff.  With my daughter growing older she has enjoyed social play with others in her class. Child-led activities are always evident at the Centre with the sounds of laughter and children playing. The proof is in how happy my daughter is when I leave her every day and this has made for a seamless start for my younger son when he joined St Brendan's.
St Brendans Childcare Centre
Rosemary S (Tarragindi)
St Brendan's has provided outstanding care to my two children over the last five years. The teachers are not only educators but provide a caring, comforting, loving environment which fosters the emotional needs of my children and enables lasting bonds between children and carers. There is always a cuddle available and a warm word of encouragement. Teachers and carers are polite and courteous and readily available to discuss your child's day when you pick up. We highly recommend parents considering child care to consider St Brendan's. It is highly recommended.
St Brendans Childcare Centre
Johanna L (Moorooka)
I love the personal feel of St Brendans.  All the staff know and take an interest in my child.
St Brendans Childcare Centre
Katy R (Salisbury)
I love our kids' carers. I have confidence that they not only take care of our children but also want to make their days fun, a place of learning and creative adventure, like gardening and the high tea and Magic Mike and face painting and getting in bugs and hatching chicks and, and, and....St Brendan's is a warm and welcoming place.
St Brendans Childcare Centre
Monica and Duane B (Moorooka)
Our son (now 5) has been at Saint Brendan's since he was 18months.  He started with 1 day per week and built up to 4 days/week.  From rooms that look like an explosion of imagination to nurturing little people who aren't quite sure why Mum & Dad aren't staying, the staff at St Brendan's care for, and are invested in the future of, their little people.  We thank them most sincerely for their efforts in helping our son grow to be a confident little man ready for prep next year.